Info
Tickets
Festival ticket book (incl. 5 tickets) 25 €
Single entrance ticket 7 €
Advance tickets
You can buy festival single tickets and ticket books in advance starting on Monday 31st of October at Film Centre Tapio (starting from 2 p.m.) and on their website (starting from 10 a.m.). With the festival ticket book you are entitled to participate five screenings. The ticket book has to be changed to entrance tickets - tickets can be changed to entrance tickets in Tapio starting from 31st of October.
Remember to change your ticket on time because seats are limited!
Ticket reservations
Festival tickets for screenings in Tapio can be reserved by telephone during Tapio's opening hours. For reservations, please call +358 13 122 238. Just single tickets, no festival ticket books.
Please note that you need to redeem the reservation 24 hours before the screening, otherwise the reservation will be released.
Kerubi concert tickets
Tickets can be bought in advance from restaurant Kerubi (address: Siltakatu 1, Joensuu), on Kerubi's website or from record store Levy-Eskot (address: Kauppakatu 27) in Joensuu.
Festival locations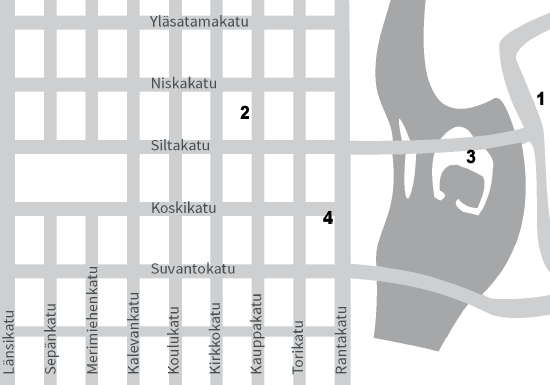 Bus and railway station
Movie Centre Tapio (Kauppakatu 27, WWW)
Restaurant Kerubi (Siltakatu 1, WWW)
Taitokortteli (taitokortteli.fi)
The screenings take place in Tapio Film Centre and Kerubi.
Info desk
The information desk, which also acts as a lost-and-found, can be found during the festival at Film Centre Tapio. We also answer your questions at .
How to get to Joensuu
By train:
By bus:
By plane:
Accommodation
Hotels in Joensuu
Hotel Aada
Kauppakatu 32
80100 Joensuu
tel. +358 13 256 2200
e-mail:
www.hotelaada.fi
Vetrea
Nepenmäenkatu 2
80200 Joensuu
tel. +358 20 775 1360
e-mail:
www.vetrea.fi
Hotel Cumulus Joensuu
Kirkkokatu 20
80100 Joensuu
tel. +358 13 511 2100
e-mail:
www.cumulus.fi
GreenStar®
Torikatu 16
80100 Joensuu
tel. +358 10 423 9390
e-mail:
www.greenstar.fi
Sokos Hotel Kimmel
Itäranta 1
80100 Joensuu
tel. +358 20 123 4663
e-mail:
www.sokoshotels.fi
Sokos Hotel Vaakuna
Torikatu 20
80100 Joensuu
tel. +358 20 123 4661
e-mail:
www.sokoshotels.fi
Finnhostel Joensuu/ISLO
Kalevankatu 8
80110 Joensuu
tel. +358 13 267 5076 or +358 13 267 5083
e-mail:
www.islo.fi
Apartamentos Joensuu
Torikatu 47
80100 Joensuu
tel. +358 13 224 886
e-mail:
www.freewebs.com/apartamentosjoensuu
Holiday Linnunlahti
Linnunlahdentie 1
80110 Joensuu
tel. +358 10 666 5520
e-mail:
www.linnunlahti.fi
Scouts' Youth Hostel
Vanamokatu 25
80130 Joensuu
tel. +358 45 262 1631
e-mail: ten.uusneoj-letsohhtuoy@olatoitrap
www.youthhostel-joensuu.net
Contact information
Rokumentti Rock Film Festival is organised by Joensuun Popmuusikot ry (Joensuu Pop Musicians' Association).
Participate in Rokumentti and submit your own film, fiction or document to us. Email a brief description and the technical information of your film to .

Joensuu Pop Musicians' Association
P.O. Box 240
FIN-80101 Joensuu
Finland
www.popmuusikot.fi
Producer Katja Suvanto

tel. +358 44 290 2905
Coordinator Jarkko Kuittinen

Graphical design:
Pasi Peltonen / Vaganza
Web:
Antti Schroderus / Purkkaviritys