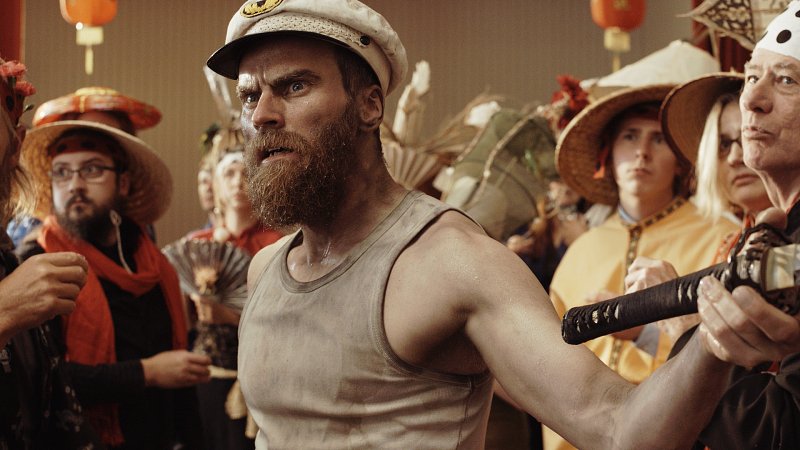 Mika Rättö
Samurai Rauni Reposaarelainen
2016 Finland
80 min • Finnish. English subtitles
K12
Theme: Rokumentti selection
16.11.2016 | Time: 21.00 | Venue: TAPIO 3
This inexplicable directorial debut from an alternative genius will blow your mind
Mika Rättö, known from bands such as Circle and Kuusumun profeetta, has taken over another art form. His debut film is situated in the microcosm of coastal Meri-Pori, and tells an odd, reckless story of an admired and feared rascal called Rauni Reposaarelainen. When this chubby and booze-loving oddball isn't shoving bottoms up or pursuing the beds of local geishas, he blows through the town like hurricane, raising havoc wherever he goes. Not everyone is happy with the samurai's antics though, and the story begins when a creature called Häpeäkyynel (Shame Tear) offers 1000 coins upon Rauni Reposaarelainen's head. Understandably, this doesn't exactly make Rauni's day, and he goes on a rampant killing spree. The rest proves to be a triumph of the Finnish indie film scene.
Rättö is something of a cult genius in the alternative scene, making this a highly anticipated film debut. It is no wonder, when you take the man's previous accomplishments into consideration. One great example is Suuri Perseoppera, or "Oopperse Le feti Le Grande Anaale", where one of the highlights included a stage setting of a four-meter papier-mâché ass that had all sorts of things climbing out of it to mess about on stage. Samurai Rauni Reposaarelainen follows suit in this inexplicable, particular style of Rättö's, and it meets all the expectations. When the dogmas of Japanese samurai films fornicate with honest Finnish delirium, the end result can't be anything but a cult classic!
Mika Rättö and Sami Sänpäkkilä will personally attend the screening.