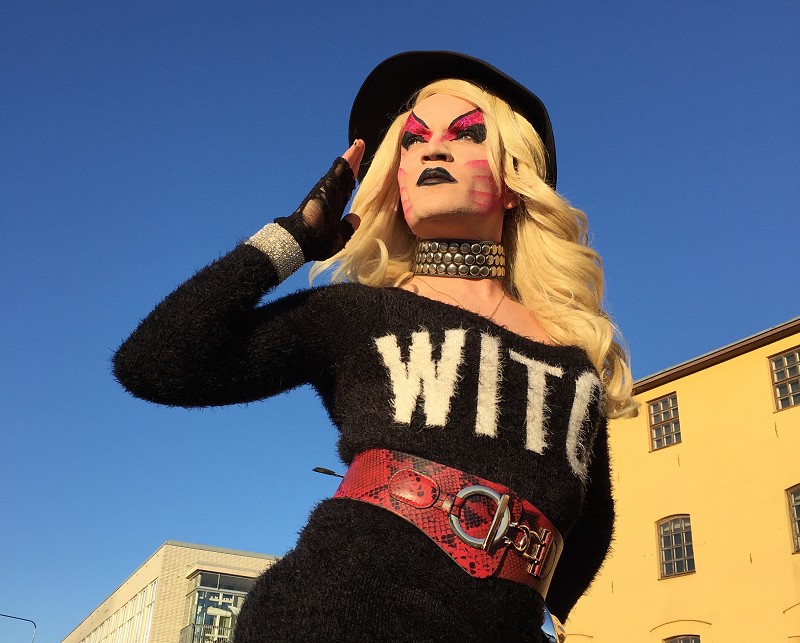 Chrzu
Roskan lumous
2015-2017 Finland
60min • K18
Theme: (freak)Movies at Taitokortteli
18.11.2017 | Time: 20.30 | Venue: Elokuvia Taitokorttelissa
Feces, boobs, suburban life and a foul-mouthed drag queen
Christer "Chrzu" Lindström from Turku has always embraced freakdom in his work. The writer-director began his career in animation, and his first live action film Nightsatan and the Loops of Doom (2013) was a festival hit. The film tells the story of Nightsatan, a synth band adventuring in postapocalyptic Karelia. This Rokumentti Special will delve into Chrzu's alter ego, Carlotta Moore, who will also be our guest of honour at the screening.
Roskan lumous (The Charm of Trash) screening will include two dragsploitation short films: The Contract and its sequel, The Consequence. The films feature the John Waters inspired character, Carlotta Moore – a potty-mouthed coke scoundrel and suburbia's own drag queen. Carlotta Moore, who will attend the screening, is more than a man and more than a woman. "Moore is more! She's a bitch you don't wanna fuck with. In the films, Carlotta's meat gets a pounding, she's got a short fuse and a big gun", director Chrzu describes.
In addition to the short films, the main feature is Chrzu – Roskan lumous. It is a documentary that expounds upon the ways Chrzu executes his unique cinematic vision that revels in bad taste. The documentary also asks how the creative process is affected by Carlotta Moore's ever-increasing demands for more attention.
Dive deep into the heart of Finnish freakiness. Warning, not for the squeamish!
The screening features:
Chrzu - roskan lumous
The Contract
The Consequence
Carlotta Moore feat. Nightsatan: Balls
FREE ENTRY!
Trailer