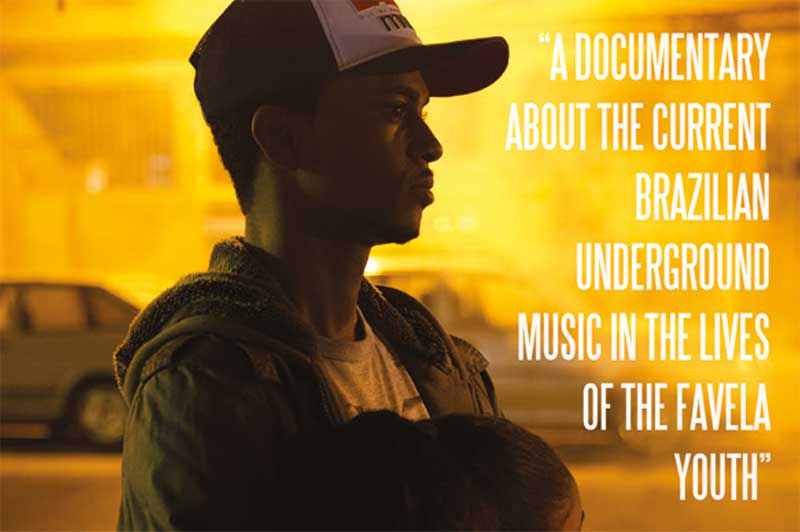 Fleur Beemster, Elise Roodenburg
Inside the Mind of Favela Funk
2016, Netherlands
76 min • Portuguese. English subtitles.
K18
Theme: Roleplay
19.11.2016 | Time: 23.15 | Venue: Tapio 3
Prepare your dick! A brazen portrayal of dirty love in the slums of Rio de Janeiro.
Favelas are worlds of their own inside the pulsating core of Rio de Janeiro. They are places beyond the reach of law. Within this dirty, rough universe a new music style, the ugly, lewd, unabashed favela funk was born. To the uninitiated the main purpose of the scene seems to be glorifying sexist, pornographic misogyny that is barely hidden under a couple of tunes. But you have to listen more carefully. Favela funk is the sound of the slums – it's filthy but poetic, and talks about love and joy amidst the misery. A fair word of warning, though: compared to these guys, everyone of us seems like a hardcore feminist.
Inside the Mind of Favela Funk shows the real life of Brazilian teenagers living in a slum. Violence, drugs and sex are a natural part of their everyday life, nothing to get worked up about. The teens openly share their stories of cheating, macho culture, and illegal parties where the measure of success is the amount of shots fired. Maybe this is what makes the twisted favela funk so popular. No one can question its authenticity, colourfulness or unique cultural richness. These people understand the value of it, and enjoy it with everything they've got.
Trailer