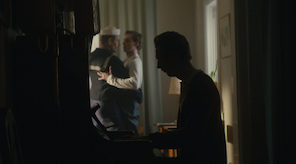 Dome Karukoski
Tom of Finland
2017 Sweden, Finland, Denmark
116 min • English, German, Finnish. English subtitles
K12
Theme: Rokumentti selection
19.11.2017 | Time: 12.30 | Venue: Tapio 3
*sold out*
Role of the century
If there's anything historically notable about the stiff centennial celebrations of Finland, let it be Pekka Strang's phenomenal acting in Tom of Finland, a biopic directed by Dome Karukoski. Strang's emotional performance as the leather-gay artist Touko Laaksonen (1921-1991) is a reason enough to see this film on the silver screen.
Touko Laaksonen, or Tom of Finland, began his career in the military, where he had to hide his erotic art. The road to becoming an internationally renowned artist was long and arduous, and Laaksonen was fully accepted in his own country only posthumously. Karukoski's film paints a grim image of morally uptight Finland, where homosexuality was both shameful and criminalized. Tom of Finland brought a ray of pride, hope, and happiness to the depressing and repressing atmosphere.
Tom of Finland is a beautiful film about an ugly era and it should be a part of every Finn's common knowledge.
Trailer