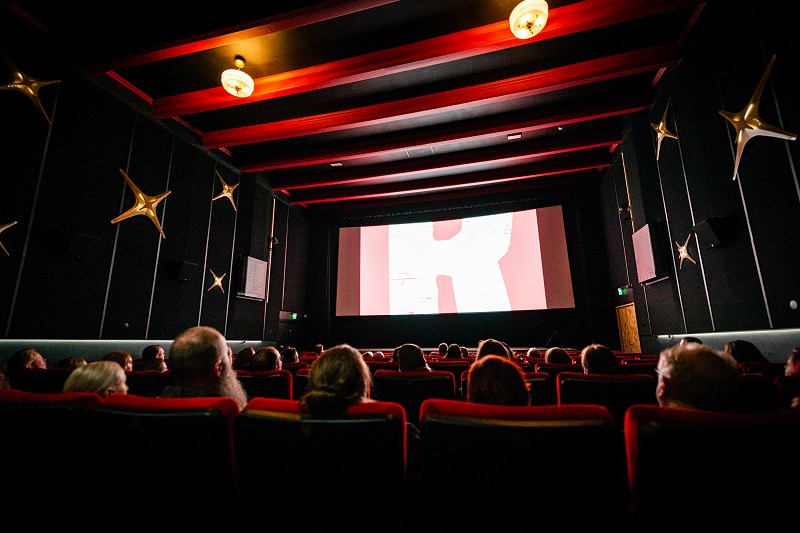 19.11.2023
Thank you to all of you Rokumentti people!
Rokumentti Rock Film Festival 2023 is now over. These five days have been full of movies, guests and great audience. Thank you all!
In our opening and closing film speech, we made a challenge for the audience as well as for ourselves. We challenged all of us to walk with an open mind, be curious and occasionally break down our protective walls towards other people. A smile, couple of nice words or a bigger help to a stranger can make wonders. May the positive resistance continue!
A huge thank you to all of you who participated, contributed, enabled and/or visited the festival. Even if Rokumentti ends from this year, it is certain that next November we will meet again!
19.11.2023
Rokumentti photo gallery
Our photographers have worked hard to capture all the best moments of Rokumentti. Check out all the great photos here!
15.11.2023
Rokumentti starts today!!
Finland´s biggest music film festival Rokumentti starts today! Opening film for Rokumentti is Your Fat Friend, directed by award-winning British documentarist Jeanie Finlay.
You can buy festival ticket books and single tickets at Cinema Tapio and on their website savonkinot.fi. Kino Sihis advance tickets are sold in Kino Sihis web store.
See you at the movies!
14.11.2023
Changes for subtitles
Mutiny in Heaven: the Birthday Party and Joan Baez I Am Noise documentaries are subtitled in Finnish.
Unfortunately, Smoke Sauna Sisterhood's Finnish subtitles were not ready by Rokumentti, so the screening has only English subtitles.
30.10.2023
Ticket sale is open!
The ticket sale is open! You can buy tickets from Savon kinot online store and from Film Centre Tapio. Buy Festival ticket book here.
Check out the whole program here!
Kino Sihis tickets are sold in advance here, festival ticket book ticket are valid for Kino Sihis screenings at the Kino Sihis door.
Remember to buy your tickets well in advance, the seats are limited!
See you at Rokumentti!!
26.10.2023
The film programme is out!
The program for this year's Rokumentti is ready and revealed. During the five days there will be over 40 films covering music and musicians, resistance and culture.
In this year´s films we meet stars like Nick Cave, Joan Baez, Scooter, Kikka, Michael Monroe and Little Richard.
Opening film for Rokumentti is Your Fat Friend, directed by award-winning British documentarist Jeanie Finlay. The documentary follows author and activist Aubrey Gordon's journey from unknown blogger to NYTimes best seller and beloved podcaster with an audience of millions. Her aim? A paradigm shift in the way that we view fat people and the fat on our own bodies.
Check out all the films here!
The ticket sale opens on October 30st at Savon kinot online store. Remember to buy your tickets well in advance, the seats are limited!
24.10.2023
Awareness theme movies are out!
Rokumentti is more than just music film. Rokumentti Awareness-movies are here to provoke a discussion and bring out sensitive topics. The Rokumentti Awareness - programme consist four impressive films.
Corridors of Power is a riveting examination of how American leaders have responded to raports of genocide and war crimes beyond it´s borders. Kokomo City presents the stories of four black transgender sex workers. Máhccan – Homecoming is a journey behind the scenes of the museum world. Home and Away is about the relationship between fathers and sons, and about outsiders putting down roots in Finnish society.
The full programme will be published soon!
Tickets for screenings will be on sale on Monday, 30.10. See you at movies!!
29.09.2023
Theme and first films for Rokumentti announced!
The theme of Rokumentti is Resistance.
Open resistance is a rebellion against the control. There is also another kind of resistance: silent, everyday resistance. Contradicting the rules or systems of those who govern and not submitting to existing norms. Resistance can start small and can swell into a force that changes the world. Attitude, integrity, seeing things in a new light and courage describe those who make changes happen.
Rokumentti explores individuals and attitudes that, through silent or open resistance, have changed the world.
**
The first to be released from the film programme are All the Beauty and the Bloodshed, which tells about the life and activism of artist Nan Goldin, Between Revolutions, which depicts the friendship of women caught in the midst of revolutions, While We Watched, which explores the state of journalism, and The Mushroom Speaks, which depicts the rebellious world of mushrooms.
The programme also includes Little Richard – I Am Everything, FCK 2020 – Two and a Half Years with Scooter and Play with the Devil – Becoming Zeal & Ardor.
The rest of the Rokumentti programme will be published in October. Like before, we'll screen the best music films and a bunch of the most expected festival spectacles of the year.
Rokumentti Rock Film Festival will be held in Joensuu 15.-19.11.2023.